Dryer Not Drying?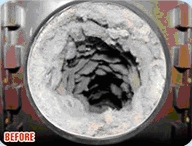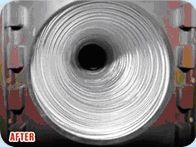 Call The Dryer Vent Cleaning Specialist
If your dryer isn't drying your clothes like it used to, you may not need a new dryer! A dryer duct clogged with lint, reduces airflow so your dryer doesn't dry as efficiently as it used to.
One of the major signs that it's time to have your dryer vent cleaned is the length of drying time. It should only take 30 to 45 minutes for the average size load of clothes to dry. If you notice that it is gradually taking longer to dry a load of clothes it is more than likely a venting problem.
Cleaning your dryer vent can prevent dryer vent fires.
Cleaning your dryer vent will let you dry clothes in less time.
Cleaning your dryer vents reduces energy and can save you money.
Increase the Life cycle of your Dryer by Regular Cleanings.





Dryer lint is extremely flammable. In fact, clothes dryers cause many more home fires each year than chimney fires do. Cleaning the lint trap on your dryer is only part of the maintenance needed.




Safety Tips




Clean out lint trap after every use.
Wash the lint trap screen with warm water and soap every month to remove film.
Do not run dryer when no one is home.
Take special care when clothes have been soiled with volatile chemicals.
Do not place improper items in dryer: foam back rugs, athletic shoes...
Clean behind and under the dryer where debris can build up.
Clean lint inside the dryer and dryer motor areas.
Have the dryer inspected by a professional.
Have your dryer duct cleaned every year by a dryer vent cleaning specialist.


Call Barnett chimney Sweep for more information and pricing. We are located in Newbury Park, CA. and offer service to Newbury Park, Thousand Oaks Camarillo Simi Valley Agoura Hills Moorpark Oxnard Westlake Village Oak Park Conejo Valley Ventura County Canoga Park Woodland Hills West Hills Calabasas



<!SpEcIaL nOtE -NINE- fOr YoU: THIS IS THE BODY OF YOUR MAIN PAGE. WRITE WHATEVER YOU WANT IN HERE>

fireplace sweeping | chimney service | chimney directory | crown repair
chimney caps | top damper | the human brush | firewood tips | site map



<!SpEcIaL nOtE -TEN- fOr YoU: THIS IS THE TABLE AT THE BOTTOM OF YOUR SCREEN THAT HAS YOUR CONTACT INFORMATION IN IT>