Need a Chimney Caps - Spark Arrestor?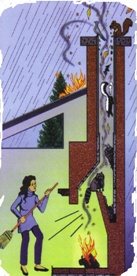 Why Install a Chimney Cap?

Rain
The number one cause of damage to chimneys is rain and weather. Rain is absorbed into the bricks and mortar, which deteriorates the masonry. Rain can also set off a bad smell in the chimney, especially if the chimney is dirty or has animal dropping on the smoke shelf.

Birds & Animals
Birds and animals are attracted to chimneys. Chimneys offer a nice, tall place to live with secure protection. However, animal and bird nests are highly flammable and will cause venting problems.

Sparks & Leaves
Every year, throughout America, thousands of fires are started by burning embers that rise up the flue, exit through an uncapped chimney, and land on the roof or yard. If leaves fall into the chimney they can choke a flue and set off a chimney fire.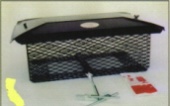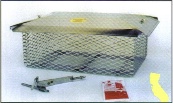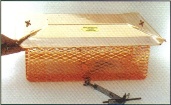 What is California-Sized 5/8" Small Mesh for Chimney Caps?



Many localities, primarily in California, but also in other areas around the nation, have spark arrestor codes that call for 1/2" spark arrestors.

The California state building code calls for such spark arresters on all new construction. Other California codes call for it in "wooded areas" or "within 200 feet of wooded areas."

To make such a reduced spark arrestor that does not clog, chimney cap manufactures follow the interpretation that a sphere larger than 1/2" in diameter should not penetrate the screen. This is wording the National Fire Protection Association uses, as well as the one being referred to by several California localities.

Thus, the spark arrestor screens on the caps measure 5/8" from center to center, but still won't let a 1/2" sphere through. This makes them somewhat clog resistant while still meeting major code interpretations.





Call Barnett chimney Sweep for more information and pricing. We are located in Newbury Park, CA. and offer service to Newbury Park, Thousand Oaks Camarillo Simi Valley Agoura Hills Moorpark Oxnard Westlake Village Oak Park Conejo Valley Ventura County Canoga Park Woodland Hills West Hills Calabasas

<!SpEcIaL nOtE -NINE- fOr YoU: THIS IS THE BODY OF YOUR MAIN PAGE. WRITE WHATEVER YOU WANT IN HERE>



dampers | fireplace cleaning | site map | dryer ducts cleaned | chimney sweeping
chimney directory | firewood tips | chimney crown repair | the human brush




<!SpEcIaL nOtE -TEN- fOr YoU: THIS IS THE TABLE AT THE BOTTOM OF YOUR SCREEN THAT HAS YOUR CONTACT INFORMATION IN IT>